Our Approach
10 Steps to a successful Project.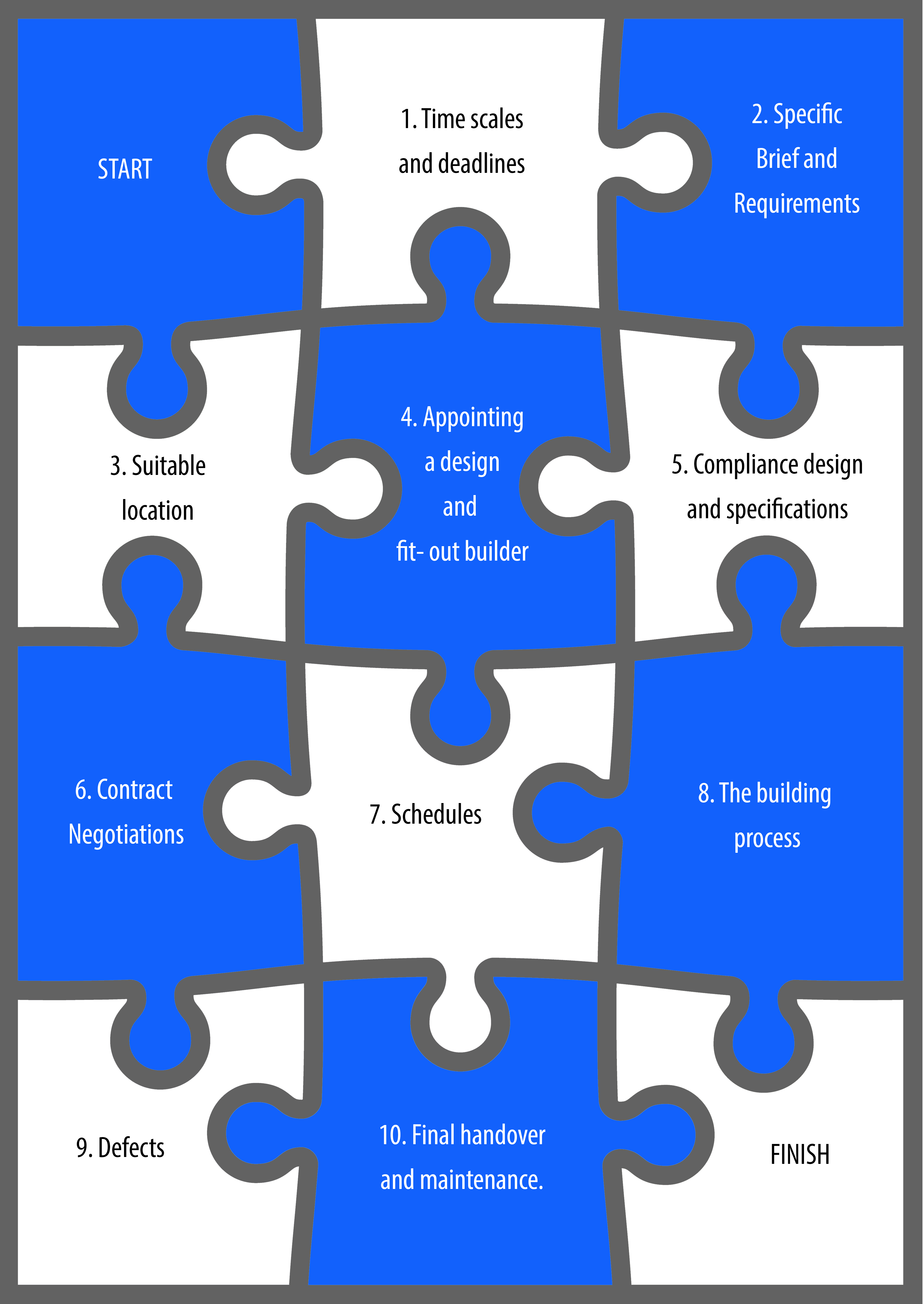 1. Time Scales and Deadlines
Lease agreements, council approvals and planning can often take a considerable amount of time and involve many people. When planning to relocate your business or a refurbishment within your current space It is important to factor in the amount of time it may take to even get to the design stage. The size of your project is also a major factor to consider.

2. Specific Brief and Requirements
Setting out a clear list of requirements that your staff and business needs to function at full capability is paramount. This will ensure that the final floor plan will make every square metre work for you

3. Suitable Location
The location of your Business needs to be carefully chosen. Exposure, sustainability, access and surrounding buildings and businesses all play a part in the day to day operations of your business.

4. Appointing a Design and Fit-Out Builder
With extensive knowledge and experience in the Fit-out industry GVM Solutions will ensure the delivery of the highest quality service and products. Our effective management and communication is at the four front of our long list of capabilities.

5. Compliance Design and Specifications
Our strong and up to date knowledge of Construction Codes and regulations, Australian Standards, materials and finishes make GVM Solutions a reliable and trusted Fit-out Company.

6. Contract Negotiations
A contract, whether it be a Cost plus or a fixed price, should set out clearly all necessary steps that are required to achieve all milestones of a project. All inclusions and exclusions to the contract need to be made clear to both the contractor and the Client.

7. Schedules
It is important that a schedule of works is designed and agreed upon prior to commencing any building works so all parties involved in a project are clear on start and finish dates and all milestones in between. This also allows all trades and contractors to work together effectively to achieve a smooth handover.

8. The Building Process
Once the inductions and safety checks have been completed all trades are to be managed and supervised throughout the project. Clear communication is maintained between the Supervisors and Trades at all times. Regular updates and reports from the Supervisors to the client will be made.

9. Defects
A final walk through will be carried out by GVM Solutions and the Client representative to identify and agree on any final defects at this stage of practical completion ensuring a seamless hand over.

10. Final Handover and Maintenance
Once the project has been completed and all defects have been rectified GVM Solutions is then in a position to hand the site over to the client for possession. At this stage all security access cards or keys will be returned to the client along with any warranty documentation and certificates of compliance.